Laser Light Therapy in La Crosse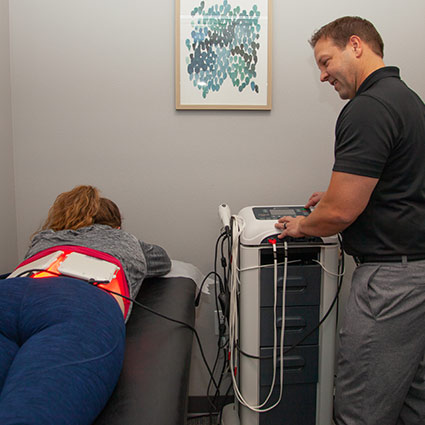 Helping patients achieve optimal healing is our goal at M.Y. Life Health Center, and we offer comprehensive care under one roof to help you do exactly that. Laser light therapy has many therapeutic benefits that help our patients get the results they are looking for.
How It Works
Sometimes called red light therapy, this modality uses particular frequencies of light to stimulate the body's healing abilities. These wavelengths penetrate deep into the tissues of the body, where they create a reaction at the cellular level that leads to increased circulation to the affected area, helping reduce swelling, pain and inflammation.
Our machine has pads that we place around the targeted area for 10-15 minutes. All you have to do is sit back and relax. You may feel a pleasantly warm sensation—there is no discomfort with this therapy.
The pads don't move once we have placed them. However, if you need treatment in more than one area of your body, we can do them back-to-back. For example, if both of your wrists need to be treated, we will do one wrist for 10-15 minutes, and then we'll do the other wrist for 10-15 minutes.
What Are Some Benefits?
Laser light therapy is beneficial in reducing pain and inflammation for acute initial injuries, as well as for promoting tissue healing and reducing swelling. Unlike most other modalities, it is also good for wound healing, such as cuts in the skin.
Because this modality is comfortable, non-invasive, and has no contraindications, it can often be used in situations where other therapies may not be appropriate.
We often recommend red light therapy for our chiropractic patients. If you receive this combination of care, we will do your chiropractic adjustment first, followed by your laser session. We find that combining care in this order offers the most effective results.
Book Today
Contact us today to learn more or to book your first appointment.

Laser Light Therapy La Crosse WI | M.Y. Life Health Center