Meet Dr. Courtney Holub
Education and Training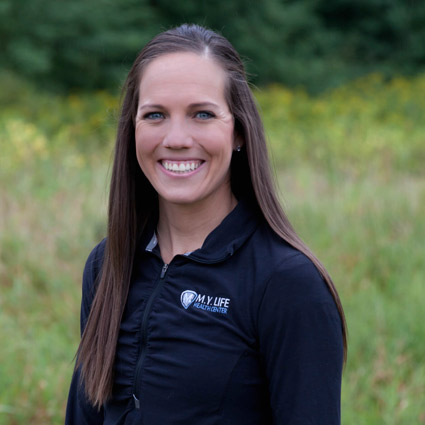 Dr. Courtney is an Iowa native where she grew up in small town Solon, IA. She graduated from the University of Northern Iowa in 2015 with a Bachelor of Arts degree in Exercise Science. While attending UNI, she was a sprinter for the women's track team. Dr. Courtney then went on to pursue her dream to become a chiropractor at Palmer College of Chiropractic in Davenport, IA where she earned the degree of Doctor of Chiropractic in 2019.
Dr. Courtney is trained in a variety of techniques that can be specifically applied to each patient's needs. She is especially passionate about working with women's health, patients with autoimmune conditions, and the elderly.
Dr. Courtney focuses on a whole-body approach to wellness by encompassing chiropractic care, nutrition, stretching, and exercise to help each patient achieve their health goals and improve their quality of life. Dr. Courtney is compassionate and truly cares for each patient like they are family.
A Passion From a Young Age
Dr. Courtney's passion for chiropractic began at a young age, as her father is also a chiropractor. She received her first chiropractic adjustment just thirty minutes after birth! Chiropractic changed her life in many ways by allowing her to live pain free after many injuries as an athlete and being diagnosed with an autoimmune condition that left her unable to walk and get out of bed some days. Becoming a chiropractor was her calling as it transformed her life. It is her mission to empower and educate patients that their bodies are capable of amazing things and healing is possible.
Outside the Office
Outside of the office Dr. Courtney enjoys spending time with her husband and their yellow lab, Cash. She loves going for hikes, fall weather, endless amounts of coffee, spending time on the river, trout fishing, running and yoga. She enjoys spending quality time with family and friends during her trips back home to Iowa. Dr. Courtney also has a goofy side to her and loves a good laugh. Life is too short to take yourself too seriously!
Book an Appointment
Contact our office today to schedule an appointment with Dr. Courtney!

Dr. Courtney Holub | (608) 783-3040